Once your training has been confirmed, you can start using your new user account.
Follow the steps below to get started and to start using the CAE Training App, which can be downloaded from the App Store (compatible with iPad and iPhone only). Refer to this article for more details on how to install the app.
You can also refer to this video link on the account creation process.
How to Create my CAE Crew Training Account?
1. You will receive an email with the subject "Create your CAE Crew Training Account''
• Can't find the email? Please refer to the article: I'm not receiving CAE emails.
2. Initial Setup and Password Creation
• Click on the "Create Account" button to create your account.
• Fill in your First and Last Name, Email (prefilled) and create a new password.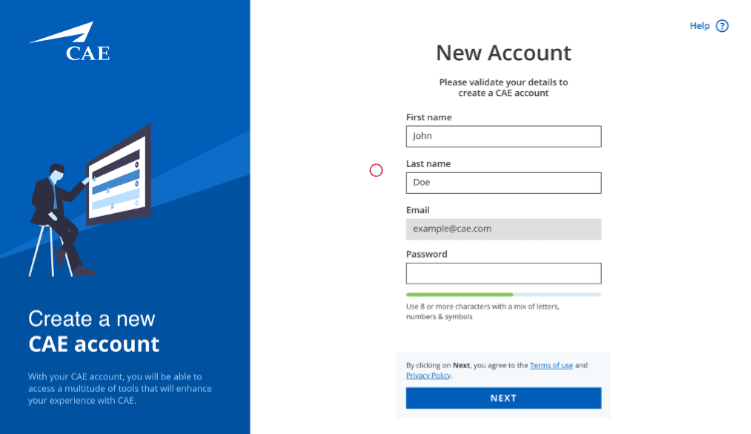 3. Once your password is created, click on "Next" and now your new account is created.
• Forgot your password? Please refer to the article: How to reset my password?
• If you are having issues logging in, please contact us.
4. Accept the updated terms of use.
5. You are now logged in! You can now access your courses and training center information directly online.
Main Features
Through the main portal, you will be able to access the following features:
If you have any issues, you can search for frequently asked questions, follow our troubleshooting guide.